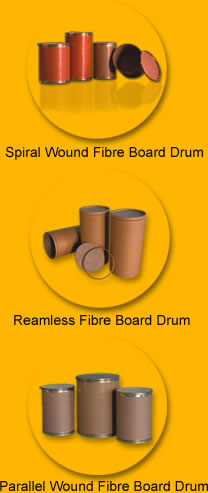 Cylindrical , Light , Asthetic,Strong & Eco Friendly
packaging.
Combination of Kraft Board, Metal & Wood forms a hard exterior safe guarding the soft interiors.
Packaging having multiple uses and catering to the need of a variety of users to pack Bulk Drugs, Pharmaceuticals, Pesticides, Gears etc.
Best alternative to metal or plastic drums due to its non-
reactive characteristics & bio-degradable nature.
Product Customization
Dimensions: Diameter - 12", 14", 16", 18"
Height - 10" to 38"
Body Exteriors : Polycoated Kraft Paper / Varnish
Coating for Moisture Protection or Plain Kraft Paper.
Lids : Hardboard, M.D.F, Pltwood, Plastic, Paper Baord.
Quality Assurance
All the products hee are made under strict Quality Control norms and the processes governed as per the ISO 9000:2000 standard. Total Testing Facilities to check the Bursting Strength, Cobb, GSM, Crushing Strength, Moisture Content,Physical Dimensions are available.